28 
June – 1 July , 2019  
If you want to become a great medical professional – do not miss this for anything!
---
---
Attention all aspiring medical professionals in grade 10-12 (and post grade 12)!
Program Information:
Venue: Waverley Medical Training Centre
799 Spioenkop Steet, Waverley, Pretoria, Gauteng, South Africa 0186
Type: Day Students Only (Close-by accommodation available)
Classification: Accredited Medical and Surgical Skills Program
Dates: 28 June – 1 July 2019 (daily 8.00 – 16.30)
Registrations status: OPEN Over-subscribed but September Program OPEN
Registrations close: 1 June 2019
Eligibility: High School students (South Africa and neighboring states) in Grade 10 to 12 (and post-matric students)
Program Fee: R4950 (payable on receiving 'acceptance to program' notification, and no later than 18 June 2019)
The fee includes the following: 
Tuition (Apprentice Doctor® Future Doctors Foundation Course): Four days of packed medical tuition, various of medical and surgical workshops.
The For Future Doctors Course and Medical Kit as well as other medical items.
The use of our Apprentice Doctor® Medical Simulation Lab, mannequins as well as other professional medical instruments and items.
The AHA-BLS Workshop. The AHA/BLS (American Heart Association's Basic Life Support) Certified Course/Workshop by AHA accredited instructors.
Meals: Lunch, tea coffee and snacks are included. Breakfast is NOT included.
Note: students who have their own Future Doctors Kits qualify for a R300 discount and students who has a valid AHA-BLS certificate (valid for 2 years) will qualify for a R1000 discount, and may leave the program after lunch on the last program day (just before the AHA-BLS Workshop).
Accommodation: This is a day-program. Accommodation not included. We can recommend close-by B&B's on request
The Apprentice Doctor® Presents the Ultimate, Accredited Premedical Programs/Workshops.
Do Not Miss This for Anything!
---
Students will do the internationally recognized American Heart Association's Basic Life Support, Certified Course (AHA-BLS) as part of the Apprentice Doctor Program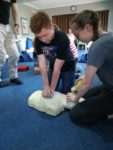 Basic Life Support – adults, toddler and babies – certification valid for 2 full years. This is simply a 'must' for ALL aspiring and practicing medical professionals and healthcare providers!
---
The program will be at the South African Head Office of the Future Doctors Academy in Pretoria, Gauteng!
Hands-on workshops offered in the 4 days:
Emergency medicine
Hand hygiene
Donning and doffing gloves
Scrub for surgery
Heart sounds workshop
Pulse Oximetry
Suture Wounds
Phlebotomy and IV-Skills
Basic surgical skills
Orthopedic workshop

Fractured long bone – closed reduction
Fractured long bone – open reduction and internal fixation

And more…
Important: Although not a prerequisite – it is highly recommended that students register for the Future Doctors Online Course in preparation of attending this popular and esteemed course for Future Doctors/Medical Professionals: Click Here for more information. Students who have completed this course will be given preference on selection for this program.
Students will receive an acceptance to the Pretoria Future Doctors Program – per email on/soon after 1 June 2019.
---
Kindly let me have more information about the Alberton Future Doctors Program!
---
Other International Apprentice Doctor® or associated programs:
---
Terms and conditions:
Important: The selection of individual students is solely the judgement of the Apprentice Doctor® or person/s appointed by the Apprentice Doctor® for the purpose of selecting applicants. The decision regarding the selection or rejection of specific applicants is final and NO discussion will be accepted/entertained in this regard.
As the Apprentice Doctor® – Future Doctors Programs are very popular and oversubscribed – we simply accept a limited number of applications and regretfully even some great applications could very well be in the not-accepted category.
Payment due date: On or before 8 June 2019 (by the end of day). Bank information will be supplied to successful candidates per email.
Cancellations: Cancellations before 8 June full refund less an administration fee of R500. Cancellations after 15 June: 50% refund and cancellations after 22 June 2019 – NO REFUND (judgement of the organizers will apply in cases of serious illness and death in the family).
Credit: Credit facilities are strictly controlled by South African financial laws. The Apprentice Doctor® is not a registered financial services provider and are thus legally not permitted to offer credit facilities.
---
Successful candidates will receive a letter of acceptance per email – as per application form.
---