Gain a Fair Advantage by Mastering Skills that Most only develop way into their Residencies
If you want to become a great medical professional – do not miss this for anything!

A hands-on medical experience like no other – carefully designed for home studying.
---
The Future Doctors Academy Foundation Medical Skills Course
Certified, Accredited, Online, Distance Learning, Foundation, Medical Skills Course
Program Information:
Future Doctors Academy Code: AD601-FDN  
Eligibility (Focus):  High School students in Grades 10 to 12 and students in premed years 1-4 levels
Region/Time zone: International program
Setting: Home-based learning (or wherever you are)
Type:  A distance learning, online study program
Certified credits: Sixty extracurricular credit hours
Dates: Start any date all year round
Time allowed: Thee months
Booking status:  OPEN
Program fee: Access to the complete course material is accessible to students who invested in an Apprentice Doctor® For Future Doctors Kit
Certification: A total of 60 extracurricular medical sciences training hours (or alternative medical shadowing hours)
Note: The Apprentice Doctor® is affiliated with the International Accreditation Organization
---
The Apprentice Corporation – leaders in medical education since 2002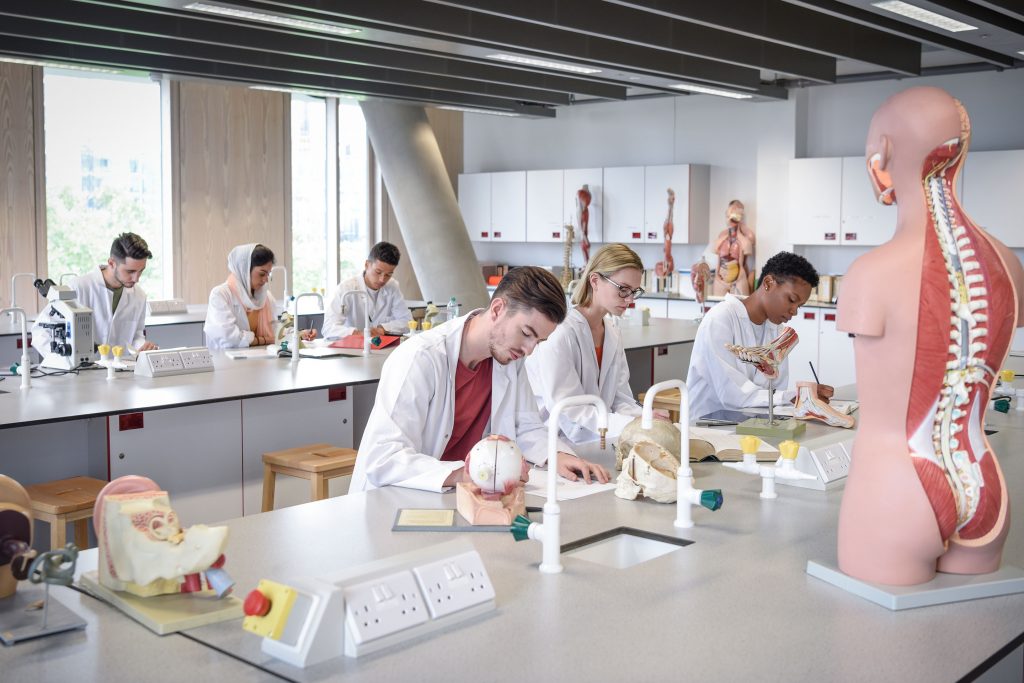 ---
All students get free access to the fantastic Future Doctor Academy Online Course material
---
Objectives
Perform > 50 fun Practical Projects at home and gain dozens of medical skills!
The Future Doctors Academy Foundation Medical Course and associated Apprentice Doctor® Medical Kit:
Offer a glimpse into the fascinating world of medicine.
Promote the concept of taking responsibility for one's health.
May very well lead to choosing a fulfilling career in one of the numerous fields of modern medicine.
 After completing The Future Doctors Academy Foundation Medical Course, students should have a good understanding of:
An understanding of medical ethics
The importance of taking a thorough medical history
The basic principles of conducting a medical examination
An understanding of how to use several medical instruments and items
The basic human anatomy and physiology of the eleven bodily systems
The systematic approach to diagnosing diseases
The meaning of multiple medical terms (medical terminology)
Various careers in medicine and healthcare
In addition to this, the student will have the following healthcare/medical skills:
Hand Hygiene
Hand washing
Applying alcohol hand-rub
Donning and doffing gloves
Distinguish between normal and abnormal bodily sounds
Heart sounds
Gastro-intestinal sounds
Respiratory sounds
Joint sounds
 The student will be able to assess a patient's vitals
Heat rate
Body temperature
Respiratory rate
Blood pressure
 The student will be able to examine various bodily parts
The eye
The ear
The skin, hair, and nails
The mouth
 The student will be able to elicit neurological reflexes
The Patellar Reflex
The Babinski reflex
The Pupil-light reflex
Other medical skills (perform and interpret)
Urinalysis
Pulse Oximetry
The student will have a working understanding of the following topics
The body's water balance
The basic principles of airway management
Emergency medicine and trauma
Burn injuries
Growths (tumors)
Several metabolic diseases
Many infectious diseases
---
The Foundation Medical Course progress chart
Complete the program in 28, 2-3 hour sessions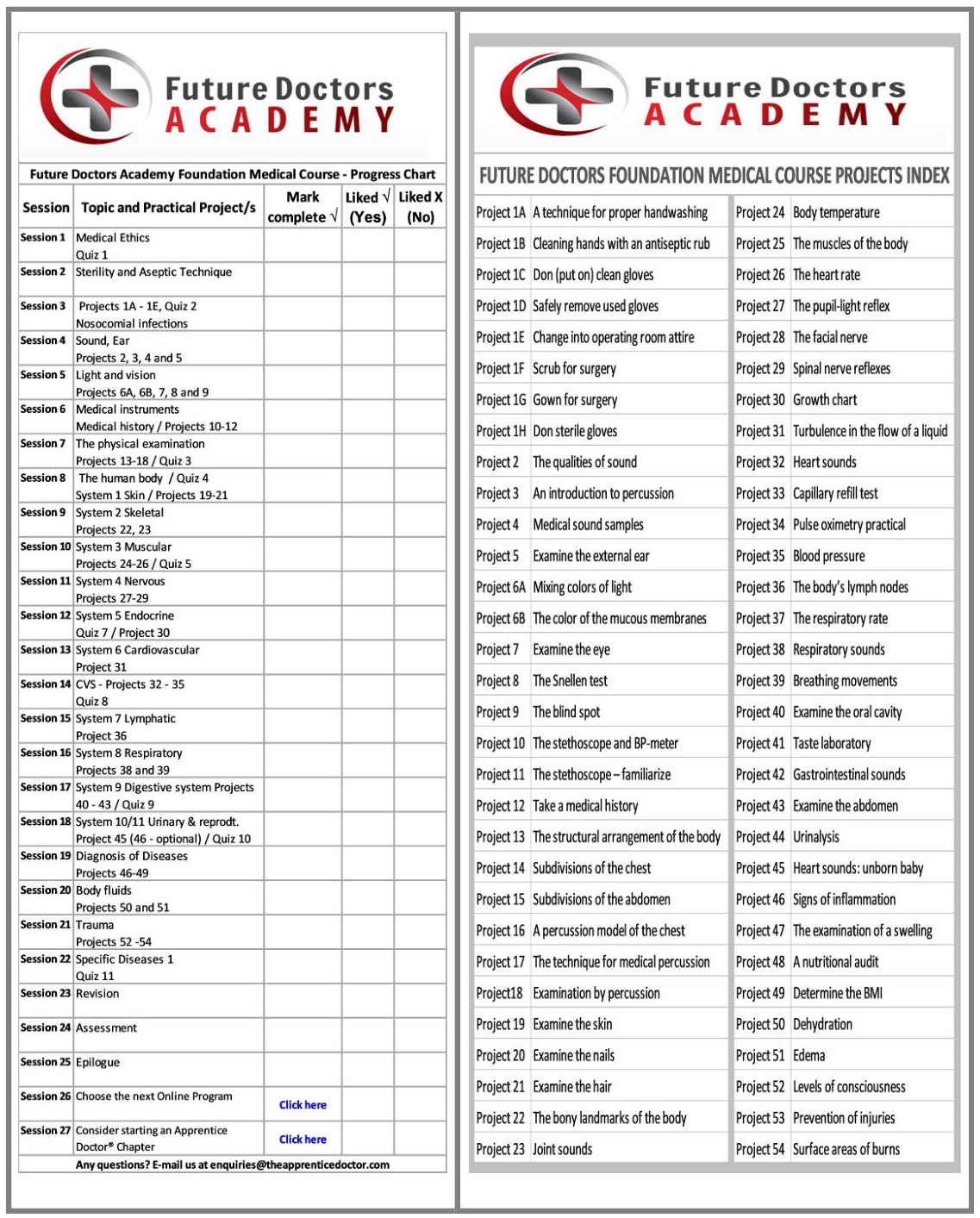 After completing the Foundation Course Assessment Module, successful students will receive the Future Doctors Academy's certificate (60 hours of extracurricular hour credits).
| | | | |
| --- | --- | --- | --- |
| | | | |
| Tracey | Maya | Michelle | Divya |
| | | | |
| Lidia | Andrea | Abigail | Jon |
A few of the thousands of Aspiring Medical Professional Students proudly show their Future Doctors® Academy certificates at an Apprentice Doctor Program!
Distance learning students will receive their certificates via email.
The Apprentice Doctor® is affiliated with the International Accreditation Organization.
---
The Incredible For Future Doctors Medical Kit
To complete the Future Doctors Academy Online Medical Skills Course, students will need the following medical instruments and items: A good quality acoustic stethoscope, an aneroid sphygmomanometer, an examination light (regular), a magnifying examination light, a neurological reflex hammer, a digital thermometer, an otoscope, urinary dipsticks pack,  a pack of examination gloves, various medical charts – e.g., a Snellen test chart, etc., alcohol prep swabs, a marker pen and ruler, masks, and a few other household items. Optional extra: an FDA-approved Pulse Oximeter.
Students can order these from the Apprentice Doctor®. The Apprentice Doctor® For Future Doctors Medical Kit includes all the items needed in this course in one neat medical set.
Order your kit now – and the Apprentice Doctor® will add a professional medical grade FDA-approved finger Pulse Oximeter to the kit at no extra cost to the next 20 orders!
Get both the

Future Doctors Kit

&

Pulse Oximeter

for $149

Portable Pulse Oximetry, pulse oximeter fingertip.
[add_to_cart id="132569″ show_price="false" style="margin:20px;padding:0 50px;font-weight: bold;text-align: center;"]
Students who order the For Future Doctors Kit (medical set) will receive unlimited email support to the Future Doctors Academy Foundation Course
---
Students who ordered an Apprentice Doctor® For Future Doctors Kit may proceed and register  to get access and get started with the Foundation Medical Course 
Do Not Miss This for Anything! Register for the Future Doctors Academy Foundation Medical Course now!
---
Accreditation, associations, and endorsements
Under the umbrella of the Solid Rock Virtual School, Tarpon Springs,  FL, the Foundation Medical Course is accredited:

The National Private Schools Accreditation Alliance (NPSAA)
The National Association of Private Schools (NAPS)
The Florida Coalition of Christian Private Schools Association (FCCPSA)

The Apprentice Corporation is a member of IELA (The International E-Learning Association)
Future Doctors Academy is an initiative of The Apprentice Corporation.
The Apprentice Corporation is associated with:
Envision Experience (Several Course/Kit Combinations)
PLTW (Apprentice Doctor® Stop the Bleed Course and Kit)
International Apprentice Doctor® or associated programs:
USA – Synchronized Online Distance Learning Program August 2020
USA – Baltimore MD: The Envision Advanced Medical Program 2017, 201, 2019, 2022 and 2023
USA – Tampa FL: The BE.S.T. Academy Future Doctors Program 2010 – 2023
USA – Boone NC: The Appalachian State University Program 2015 – 2023
Australia – Perth WA: The Scitech Future Doctors Program 2017 and 2018
Johannesburg – South Africa: Multiple yearly programs (2010 – 2023)
Other programs: Durham, Duke University, NC, Pretoria, South Africa, Newark, NJ, to name just a few…
---
Meet your Future Doctor Academy 2023-2024 Online Leadership Team:
Frequently asked questions:
I am in year 4 of my degree as a pre-med student. Can I apply?
Yes, indeed – if you want to gain clinical medical skills and gain medical insight, this course is for you – at any level of premedical studies.
I am in grade 11 and interested in becoming a PA (physician's assistant). Is this something I can do?
Absolutely – any high school student in grades 10-12, college and university students aiming at any medical or nursing professional career may apply.
As it is essentially a medical skills program – how will I be able to practice these skills at home?
The course is structured, and icons will indicate practical projects suitable for self-examination and projects where students will need a test subject. The test subject can be a family member (a mother, father, brother, sister, or friend). In an academic setting, it can be a fellow student. The supervision of a responsible adult (parent, guardian, or teacher) is essential in all cases where a minor is part of this program or where a minor is functioning as a test subject. No exceptions!
How will I be able to practice clinical skills as I don't have a stethoscope?
Students who need these instruments and items may order the Apprentice Doctor® Medical Set/Kit (see above) – containing all the instruments and items required for completing the Future Doctors Academy Foundation Course.
What happens if I need assistance?
The program is well structured, with medical skills well explained step-by-step. Demo video clips are available for clarification. If students need more help, they can email us, and one of the instructors (all medical professionals) will take care of your problem – usually within 24 hours. Email us: enquiries[at]theapprenticedoctor.com ([at] = @)
I am a parent and want to enrich myself with medical knowledge and skills – may I apply?
Yes, you can apply if you like. In the event of over-subscription, we will give preference to bona fide aspiring medical professionals, though.
Will this open the doors to medical school for me?
There are a lot of requirements needed for successfully applying to medical schools – like good academic grades, good MCAT score, etc. Adding the Future Doctors Academy Course Certificate to your resume will add the following value: 60 credit hours of extracurricular/alternative shadowing hours. Most Medical Schools/Medical Professional Schools require evidence of additional medical or related courses/experience and proof of shadowing in a medical environment.
Kindly note: the Apprentice Corporation does not have any special arrangements with any specific individual medical schools, and we under no circumstances can guarantee (or imply) that this course certificate will ensure success regarding an individual's application to attend any educational institution's program. Kindly check with the academic institution you are applying to regarding their requirements.
---
Order your Apprentice Doctor Foundation Kit today and get an FDA-approved Pulse Oximeter together for only
$149
[add_to_cart id="132569″ show_price="false" style="margin:20px;padding:0 50px;font-weight: bold;text-align: center;"]
---
Terms and conditions:
Important: The acceptance of individual students is solely the judgment of the Apprentice Doctor® or person/s appointed by the Apprentice Doctor® to select applicants. The decision regarding selecting or rejecting specific applicants is final, and NO discussion will be entertained in this regard.
The Apprentice Doctor® – Future Doctors Programs are very popular and may occasionally become oversubscribed. 
Students who fail the Assessment Module may retry a second time. Failing a second time will count as failing the course, and students will have to repeat the entire course to try and pass the assessment module.
---