Apprentice Doctors – Medical Immersion – South Africa – 2023
The Apprentice Doctor® — Intensive Medical & Surgical Skills Program
If you want to become a Great Medical Professional – do not miss
this for anything!
---
---
---
---
Testimonial (parents):
Thank you so much for amazing opportunity presented in December for our daughter to attend the Apprentice Doctor medical program. We were slightly nervous knowing she is one of the youngest attendees at the onset, but the professional way the course was presented and the assistance offered by the Facilitators was world-class. We have never seen our daughter so excited & committed. She has not since the program completion, stopped doing research on anything to do with the medical profession. Thank you for igniting this passion in her even more. Ps… I can safely safe that everyone in our family is in good health, as she has numerous times taken our blood pressure etc. as she wanted to practice what she was taught on everyone in the family. We drew the line at putting in stitches though. Forever grateful for the opportunity. – Coetzer-family
---
Dear Dr. Anton, Sr Annette and Team
When your heart bursts in your chest with pride and excitement,
it really is hard to find words to thank you!!
This experience did not only confirm that Janine wants to pursue
a career in medicine, but it is also now carved in stone!!
This SUPER program offered her knowledge,
skills, and insight to her future, but it also developed a part of
her which is priceless for any parent. Seeing the massive change
in her after the weekend, was just phenomenal!

For her, the realization of the capabilities and the passion she
has, was surely one of the highlights.
Thank you, to each person, who made this weekend a weekend Janine
will never forget. For teaching her and for allowing her to learn
and discover who she is and will be as a doctor someday.
We are forever grateful to you and The Apprentice Doctor
Programs. We will recommend The Apprentice Doctor Programs to each
person crossing our roads, who has an interest in medicine.
Thank you, thank you from the bottom of our hearts!!!
Regards
Nelma and Gert
---
The Apprentice Doctor® and the Apprentice Academy have joined hands in
offering you an unforgettable week of medical and surgical immersion!


Book your spot early
Attention all aspiring medical professionals in grades 10-12 and
post-matric. Join us for four inspired days of ♠MEDICAL♠ IMMERSION!
Program Information:
Venue:: Various locations in South Africa
Type: Day Students Only.
Classification: Accredited Medical and Surgical
Skills Program for Aspiring Medical Professionals.
Dates:
Program 1: 6-9 January 2023 in Alberton


[CLOSED]

Program 2: 27-30 March 2023 in Alberton


[CLOSED]

Program 3: 3-6 April 2023 in Durban


[CLOSED]

Program 5: 10-13 July 2023 in Alberton


[CLOSED]

Program 5: 30 Aug. – 02 Sept. 2023 in Alberton [PRIVATE SCHOOLS]
Program 6: 2-5 October 2023 in Centurion
Program 7: 4-8 December 2023 in Johannesburg (Medical Celebration at
the Sci-Bono Center)
Program 4: 11-14 December 2023 in Cape Town
*Note: A minimum of 12 students will be needed for a
program to become reality.
Closing date: Approximately five weeks before the
start of the program. All students will receive a notification email
– regarding their acceptance to the program – shortly after the
closing date.
Eligibility: High School students (South Africa and
neighboring states) in Grade 10 to 12. We will also consider mature
Grade 9s who want to attend the program for the purpose of selecting
subjects for Grade 10. Post-matric also welcome to apply.
Program fee (Gauteng): R 6495 and (Cape Town and Durban) R 7450

Including four full days of Medical School-like intensive tuition,
multiple skills-based medical and surgical Workshops, the Apprentice Doctor Kit containing various quality medical instruments and
items, as well as lunch and refreshments as per program schedule
daily.
The fee includes the following:
Tuition (Apprentice Doctor® Apprentice Doctors Foundation Course):
Four days of packed medical tuition, various of medical and
surgical workshops.
The For Apprentice Doctors Course and Medical Kit as well as other
medical items.
The use of our Apprentice Doctor® Medical Simulation Lab,
mannequins as well as other professional medical instruments and
items.
The Apprentice Doctor Academy (FDA) Resuscitation Workshop. Save
lives after cardiac, or respiratory arrest or choking.
Meals: Lunch, tea coffee and snacks are included. Breakfast is NOT
included.
Note: students who have their own
Apprentice Doctors Kits qualify for a R350 discount.
Normally the Apprentice Doctor® Suture Kits are available at R450
during the program but these kits are sponsored by SGU –
complimentary.
Accommodation:This is a day-program. Accommodation
is not included. We can recommend close-by hotels request.
The Apprentice Doctor®Presents the Ultimate,
Accredited Premedical Programs/Workshops.
Do Not Miss This for Anything!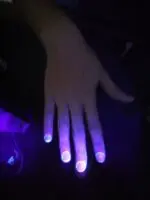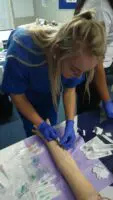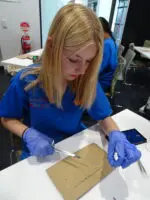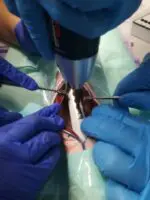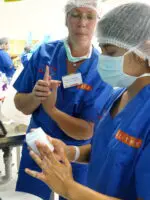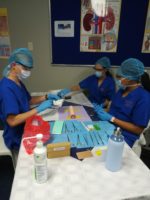 Attendees of previous programs having a great time!
---
---
Hands-on workshops offered in the four days:
Hand hygiene
Donning and doffing gloves
Scrub for surgery
Heart sounds workshop
Pulse Oximetry
Suture Wounds
Phlebotomy and IV-Skills
Basic surgical skills
Orthopedic workshop

Fractured long bone – closed reduction
Fractured long bone – open reduction and internal fixation

The Apprentice Doctor Academy Resuscitation Workshop – adults,
toddler and babies.
And more…
This is simply a 'must' for ALL aspiring medical professionals and
healthcare providers!
---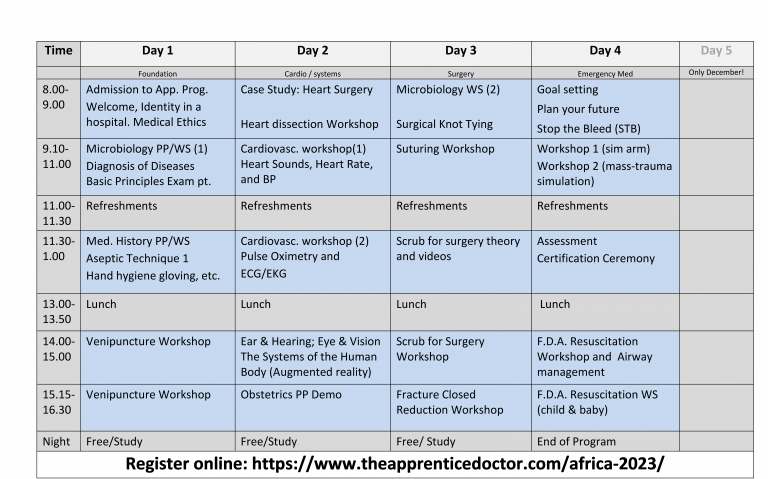 The Program Schedule (minor changes possible)
REGISTER NOW (All South African 2023
Apprentice Doctors Program)
(These programs are often oversubscribed – thus register without
delay!)
Please ONLY register if you are serious about becoming a medical
professional! Successful students will receive an acceptance to the
Alberton Apprentice Doctors Program – per email 2-3 days after the
closing date.
---
---
Other International Apprentice Doctor® or associated programs:
Multiple programs nationally and internationally since 2010!
Several programs yearly since 2010 in South Africa – Johannesburg and Pretoria
The Envision Advanced Medical Program since 2018
The BE.S.T. Academy Apprentice Doctors Program 2019, 2020 (virtual) 2021, 2022
Noorishment 2022 Program
The Appalachian State University Program 2019
The Scitech Apprentice Doctors Program (2017 and 2018)
Many other programs – e.g., Dallas TX, USA, Sofia in Bulgaria and
more…
---
---
Terms and conditions:
Important: The selection of individual students
is solely the judgement of the Apprentice Doctor® or person/s
appointed by the Apprentice Doctor® for the purpose of selecting
applicants. The decision regarding the selection or rejection of
specific applicants is final and NO discussion
will be accepted/entertained in this regard
As the Apprentice Doctor® – Apprentice Doctors
Programs are very popular and oversubscribed – we simply accept
a limited number of applications and regretfully even some great
applications could very well be in the not-accepted category.
Will this open the doors to medical school for me?
There are a lot of requirements needed for successfully applying
to medical schools – like good academic grades, good SAT/ACT/NBT
results, etc. Adding the Apprentice Doctor Academy Course
Certificate to your resume will add value (32 credit hours of
extracurricular activities). Kindly note: the Apprentice
Corporation does not have any special arrangements with any
specific individual medical schools, and we under no
circumstances can guarantee (or imply) that this course
certificate will ensure success regarding an individual's
application to attend any educational institution's program. It
is each individual university's full prerogative on valuing
attendance of this program.
I haven't been able to shadow medical professionals – will
this count as shadowing hours?
Yes, the majority of medical schools will consider alternative
clinical experiences like:
Simulation medical and surgical skills courses: complete as
many medical and surgical simulation courses as possible, for
instance: American Heart Association's Basic Life Support
(BLS), Stop the Bleed (STB), First Aid (various levels), and
as many of the Apprentice Doctors Courses (Suturing, Phlebotomy,
Basic Surgical Skills, Aseptic Technique, etc.)
Alternative clinical experiences, e.g., Hospice volunteer. Assist a Hospice
as a volunteer and learn how to deal with the realities of death.
Caretaker. A caretaker assists families with very sick family members with
day to day needs.
Note: It is the student's/parent's responsibility to check with the relevant
academic institution regarding their policy regarding shadowing during the covid19 pandemic..
Are you a university? No, the Apprentice Corporation with the brand name the
Apprentice Doctor® is a private institution and not associated with any mainstream medical school or
medical program. One cannot study to be any registered medical professional with any of the
Apprentice Doctor® courses.
I failed grade 12 / matric – can I do your course? Can I become a doctor? If you redo
your grade 12, and get high marks for maths and all the science subjects (physical science, chemistry
and biological sciences as well as English) you may stand a chance of applying to medical school
(presuming you have further evidence like job shadowing at a hospital for instance) in place. If you do
not stand academically strong your application to medical school is likely to fail!
Is this a free program? No, unfortunately not – the course fee is a prerequisite of
attending the course. It is mostly used to cover direct program costs.
Do you have a job for me? No, your local Department of Labor may be able to assist you
in getting employment.
Common Questions and Answers:
This program does NOT qualify one as any type of medical professional. Attendees at the end of the
program may not practice or sell their skills to any other person.
This program is NOT a guarantee of acceptance to any medical or medical professional school. The
Apprentice Corporation has no special arrangement with any medical or medical professional school.
Successful students will get an accredited Attendance Certificate for 30 medical training credit
hours, and are welcome to add this certificate to any career application. It is the individual
school's prerogative on how much weight they will attach to the certificate (if any). In addition to
this all attending students will receive a STB and BLS certificate. We recommend all students
complete the Apprentice Doctor Academy Suturing assessment – earning their suturing certificate.
The selection process takes many variables into consideration and is a closed process. There will be
no discussion regarding individual student's merits and the decision of the selection staff is
final.
This is a goodwill program. An effective way to exclude your child from the program is by being rude
to Dr. Scheepers or any of the Apprentice Doctor staff in any form of communication. It is
unfortunate that we have to include this point – as 99,5% of parents are magnificent people.
Parents or students who are not willing to sign the Terms and Conditions agreement – will be
excluded from the program.
We take photographs during all the programs and use these responsibly on our social media (Facebook
etc.) Students (or parents of minor students) who are unwilling to sign the photo-release form –
will not be allowed to attend the program. It is very difficult if not impossible to keep on
avoiding one specific face in an otherwise group setting over a period of 4 to 5 days. It is simply
impractical and unfair to the other students.